Zawilec wielkokwiatowy to roślina, obok której nie można przejść obojętnie. Tworząc rozległe kobierce dużych białych kwiatów, wygląda naprawdę zjawiskowo. Roślina w stanie dzikim znajduje się pod ochroną, toteż nie należy jej zrywać. Lecz nic nie stoi na przeszkodzie, aby te piękne białe kwiaty uprawiać w swoich ogródkach. Idealnie nadają się na skalniaki.
Jeśli planujesz uprawę tych kwiatów w ogrodzie, sprawdź, co jeszcze powinieneś wiedzieć o zawilcach.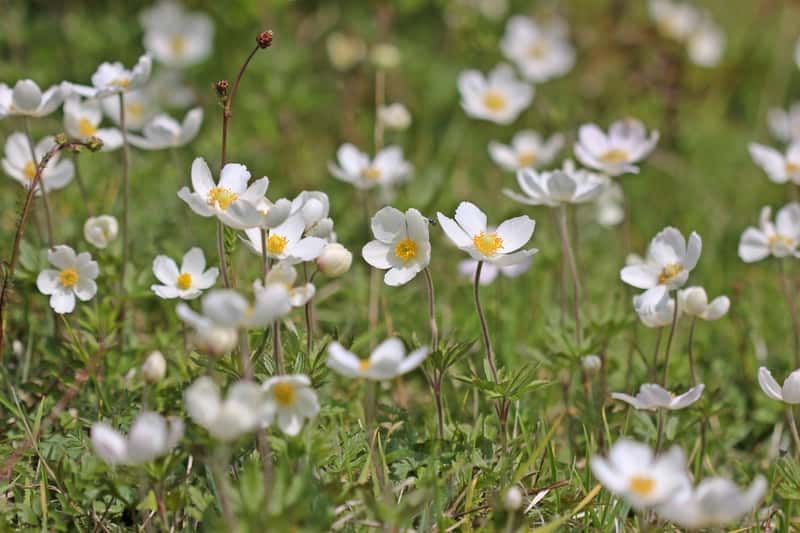 Zawilec wielkokwiatowy (anemone sylvestris) – opis i uprawa rośliny
Zawilec wielkokwiatowy w Polsce w stanie dzikim występuje na niewielkim obszarze, głównie na wschodzie kraju, dlatego też znajduje się pod ochroną. Ten anemon czasami bywa mylony z zawilcem gajowym, jednak bliższe zapoznanie się z rośliną rozwiewa wszelkie wątpliwości.
Zawilec wielkokwiatowy anemon tworzy kępki dłoniastych liści wyrastających z podziemnych rozłóg. Jego białe kwiaty są 2-3 razy większe niż u popularnego zawilca gajowego. Składają się z pięciu płatków zebranych wokół żółtych pręcików. Ich średnica może wynosić nawet 6 cm. Niektóre odmiany tych zawilców odznaczają się pełnymi kwiatami, np. Polish Star. Zawilec wielkokwiatowy rozpoczyna kwitnienie w kwietniu i trwa ono do końca maja. A może zainteresują cię także inne kwiaty wiosenne do ogrodu?
Uprawa zawilca nie jest w żaden sposób kłopotliwa, dlatego warto pokusić się o posadzenie go w swoim ogrodzie. Doskonałym stanowiskiem dla niego jest lekki półcień. Roślina wymaga gleby żyznej, przepuszczalnej i zasadowej. A może zainteresują cię także zawilce żółte?
Anemone sylvestris (anemone sylvestris) – pielęgnacja zawilca
Ponieważ zawilec wielkokwiatowy najlepiej czuje się na glebach o podwyższonym pH, należy podłoże wokół roślin regularnie wapnować. W zbyt kwaśnej glebie może ograniczyć lub zaprzestać rozrastania się i wytwarzania pąków kwiatowych. Najlepszym okresem do wykonania tego zabiegu jest wiosna i jesień.
Rośliny najlepiej rozwijają się w ziemi bogatej w związki organiczne, dlatego należy je zasilać kompostem. Wzmocnione w ten sposób kwiaty nie wymagają już innego nawożenia. Jeśli nie posiadamy kompostu, należy jednorazowo w okresie wiosny zasilić je nawozem do roślin kwitnących.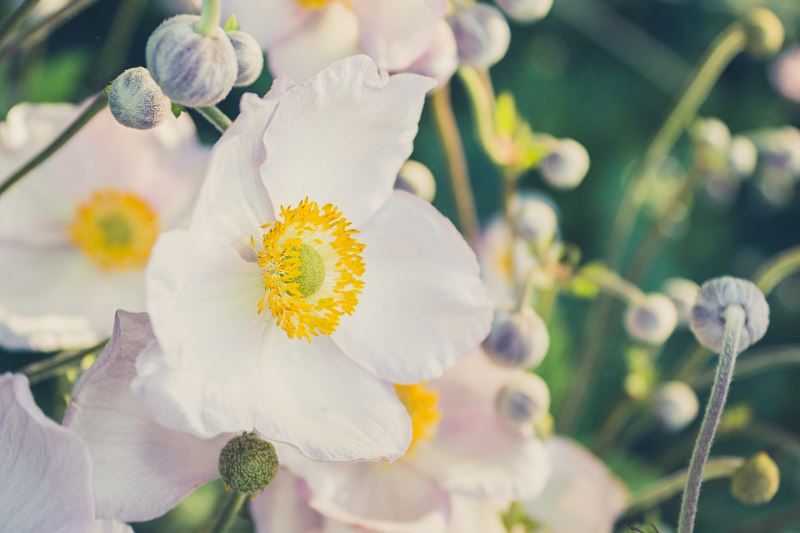 Właściwa pielęgnacja zawilców wiąże się również z zapewnieniem im odpowiedniego nawodnienia. Wprawdzie w czasie letniego odpoczynku rośliny dobrze znoszą okresy bezdeszczowe, ale w czasie kwitnienia muszą mieć zapewnioną odpowiednią wilgotność podłoża. Pamiętajmy, że ten anemon, podobnie jak większość innych gatunków, źle znosi zalewanie kłączy, dlatego podlewanie powinno być umiarkowane. Sprawdź także, jak powinna przebiegać uprawa narcyza.
Najlepsze mieszanki kwiatów ogrodowych - sprawdź je!
Białe kwiaty zawilców wielkokwiatowych - zastosowanie
Duże białe kwiaty zawilców stanowią piękną dekorację zarówno rabat kwiatowych, jak i ogródków skalnych. Przy sprzyjających warunkach roślina może powtórzyć kwitnienie, dlatego tak ważna jest jej odpowiednia pielęgnacja. Sprawdź także, jak uprawiać zawilca gajowego.
Zawilec wielokwiatowy jest rośliną dosyć ekspansywną, dlatego należy go sadzić na dużych rabatach. Ważne jest również stworzenie dla niego odpowiedniego sąsiedztwa innych roślin. Nie mogą to być drobne, niepozorne kwiaty, gdyż zostaną szybko zagłuszone przez rozrastające się anemony. Doskonałym towarzystwem będą więc narcyzy, konwalie, żonkile, tulipany czy szafirki. Zawilec świetnie nadaje się również do nasadzeń w zagłębieniach skalnych, wokół rzeźb ogrodowych czy murków podporowych. Sprawdź także nasze porady, jak i kiedy sadzić tulipany.
Z roślin tych można tworzyć również rozległe, dywany lub przepiękne ścieżki kwiatowe. Falujące na wietrze białe kwiaty na długich łodygach sprawiają niesamowite wrażenie. Dlatego zawilec wielkokwiatowy to roślina, na którą warto zwrócić uwagę, komponując swój ogródek.